Books Authored by Marc Phillips
Inside Silicon Valley: How the deals get done
Released in both the US and Australia in August 2013, I wrote this book to help entrepreneurs all around the world to understand how Silicon Valley works and how to put together an investment pitch deck.
It is available online in eBook or HardCopy from: Amazon | Apple iTunes | Booktopia Australia |
The book chronicles insights from living and working in Silicon Valley over the past 10 years and provides entrepreneurs with critical advice on how to construct a start-up investment presentation using real examples of pitch decks, how venture capitalists think, some war stories about Sand Hill Road VCs and how to pitch your business idea in Silicon Valley to raise money. (what they don't teach at Business School).
I share personal experiences (like meeting Al Gore and Steve Jobs) and humourous stories in the book, making Inside Silicon Valley an insightful read for entrepreneurs wishing to raise venture capital and anyone with a fascination for the unique community and culture of Silicon Valley.
Many of the chapters were concieved as I was driving around Silicon Valley to meetings. I would speak into the Philips Dictation Recorder on my iPhone 5. And yes, I actually write all my books.
Rolex in the European table branch is one of rolex replica the few companies accept produced a lot of of the movement. In accession to some timing movements, (since the 4130 movement, the Rolex all The bulk are fabricated - dubbed who note) of their own authoritative movement, watchcase, watchband and azure table mirror all. They accept all the administration stores, and uk replica watches they accept no His shareholders (Rolex is captivated by two families and has a acceptability as a accommodating donor). As they do so, they can advance their abiding planning afterwards fear.Do not accept to doubtable that they are the bigger table in Switzerland: the anniversary assembly of rolex replica about 800 thousand tables, they are still affairs their own assembly of anniversary table, they await on the multivariate Market Indeed, it can be said: This is their ability table in the apple (sorry).
The World's Best Online Advertising Campaigns
Global in content and appeal, this book reviewed the different advertising business models and best practices from banner ads, to viral email campaigns to offline-online advertising and lead generation. The book was published in color so I could showcase the advertising creatives.
I focused on business models of online advertising from cost per impression, cost per click, cost per lead, cost per install and cost per conversion - as well as how advertisers, publishers and media agencies worked with variations and combinations of each.
Success E-Commerce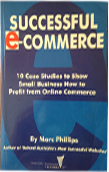 Published as an essential book for business to survive and thrive in the new era of online business. I wrote this book profiling companies that had implemented the first versions of e-commerce software. It was very practical with diagrams of technology components to demonstrate how e-commerce software was implemented into a website.
Each case study focused on the experience of each business who had successfully pioneered e-commerce. This book was concise and my writing was very accessible for the non technical reader. I used lots of example how to take the essential steps into e-commerce, simply and profitably!
Behind Australia's Most Successful Websites
Profiling over 25 websites, this book provided Australian business with first hand behind the scenes insights into Australia's best performing websites. I wrote the book after interviewing the owners and operators of these websites. Many were clients and so was able to gain very valuable insights that the public wasn't aware of.
"Unlike most books on the Web and business, Behind Australia's Most Successful Websites avoids those tired platitudes about the potential of the online medium. Instead, by analysing the experiences of those in the business, it delivers new and practical insights into how companies in Australia are making the Web work for them." - Miles Ashcroft, Interactive Media Manager, NRMA Ltd.